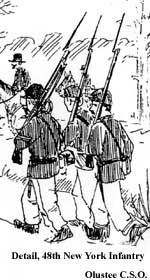 Drawing from the
Olustee Post Card Set.
The second regiment in Barton's New York brigade was the Forty-eighth New York Volunteer Infantry. This unit was organized in Brooklyn, New York City, and Peekskill during the late summer of 1861, a dark period for the north following the humiliation of First Bull Run. In addition to the men recruited in the Empire State, companies of the regiment were also formed in New Jersey, Connecticut, and Massachusetts.

The Forty-eighth was also known as the Continental Guards Regiment or "Perry's Saints." The former designation referred to the multi-state composition of the unit, while the latter was in honor of the regiment's organizer and first commander, Colonel James H. Perry. James Perry attended West Point for three years in the 1830s, before resigning to serve prominently in the Army of the Republic of Texas during its War of Independence with Mexico. Disillusioned by the bloodshed and carnage of that war, he turned his attention to the ministry in the post-war years and became a major figure in the Methodist Church in New York. Because of Perry's prominence as a minister, the Forty-eighth attracted a different kind of recruit. Included were many seminary students and others from strongly religious backgrounds. Perry contributed to the unusual, if not unique, composition of the unit by discouraging the consumption of alcohol. In June 1862, the regiment was at Tybee Island, near Savannah, when a quantity of alcohol washed ashore from a stranded ship. Many of Perry's men consumed these spirits and became drunk. Colonel Perry died of a heart attack the next day, but whether his attack was the result of the activities of the previous day is unclear.

Soon after its organization, the Forty-eighth was sent to the lower Atlantic Coast, where it would actively campaign for the next two years. Unlike the Forty-seventh New York, Perry's Saints participated in several heated battles during this period. This included the bloody, ill-fated assault on Battery Wagner in July 1863 (the 48th was part of the same brigade that included the 54th Massachusetts), in which the regiment suffered nearly 250 casualties. After Battery Wagner, the 48th served on garrison duty at St. Augustine from 2 August to 4 October 1863, and in various locations along the Georgia and South Carolina coast. While at St. Augustine, five companies were quartered in the barracks and three were sent to Fort Marion, the old Spanish fort. Major Dudley Strickland was in command. 2nd Lieutenant James Nichols was appointed Provost Marshal, and Lieutenant Ingraham was in charge of the office of the commissary. At the time of the Florida campaign, the regiment was seriously under-strength. Nearly 300 veterans of the unit had recently been awarded thirty-day furloughs as a reward for their reenlistment and were not present for the battle.