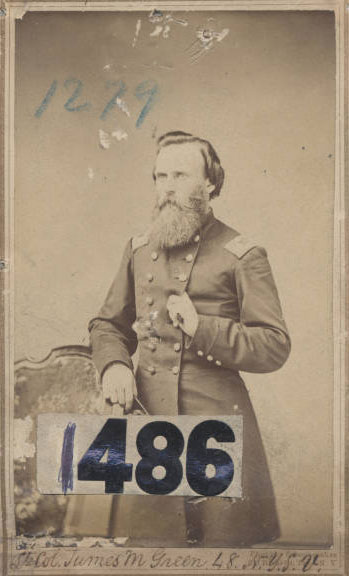 From a Carte de Visite
New York State Military Museum.
Used with permission.
James M. Green was 32 years old when he joined the 48th New York Infantry on 5 August 1861 as a captain. He joined at Brooklyn, New York, which the history of the 48th lists as his residence. On 31 August he became commander of 'F' Company. He was promoted to major on 18 June 1862 and then to lieutenant colonel on 24 December 1862. Lieutenant Colonel Green was killed on 18 July 1863, during the assault on on Fort Wagner, South Carolina. He was shot dead as he was crossing the bastion, as he leaped on the inner parapet. One of the histories of the 48th describes him as follows:
"...we talked together of the friends who had fallen, one name more than any other occupied our thoughts and conversation. It was that of Lieutenant-Colonel Green... for no one could be associated with him, for any length of time, without being attracted towards him and becoming interested in him. Possessed of a frank and generous disposition, he was not only beloved by those under him, because of his thoughtful consideration of them, but equally by his fellow-officers, because of his sprightly, sunny temperament. He was welcome everywhere, and, on all social occasions, his quick and susceptible nature caught and communicated the spirit of humor that prevailed, until no one could withstand its influence. He, bubbled over with mirth whenever the occasion or sarroundings stirred the humorous vein within him, and was the frequent instigator of the harmless practical jokes with which the officers sometimes sought to enliven the dulness of garrison life. I can see him now, as, after a period of duty, he starts out from his quarters in search of recreation, the very personification of mischief. He never needed to go far, for every latch-string was out for him, and none but the hardest and most obdurate could withstand the appeal of his merry eyes and bright, cheery countenance. He was a good soldier, always ready for duty, and in its discharge both earnest and exact. From 'grave to gay' was sometimes a rapid transition with him; but he saw every duty to its ending, and, especially when hardship and danger were involved, every fibre of his mental and physical nature was absorbed in its performance. Few will be remembered longer by his comrades than he, and none with more general warmth of affection." — Perry's Saints or The Fighting Parson's Regiment in the War of the Rebellion
Actually, Lieutenant Colonel Green began his army career as a private. Early in 1861, he enlisted as a private in the 90-day 71st New York Infantry and fought at the battle of Bull Run, where, "as his comrades testify, he acquitted himself with undaunted bravery, escaping without a scratch, but having his clothing perforated with the missiles of the enemy."

A newspaper clipping describes Lieutenant Colonel Green's actions at the first assault of Fort Wagner with a quote from a letter he wrote home:
"At the first attack upon Fort Wagner he led the 48th, and after a desperate struggle, as the readers of the Eagle know, was repulsed with heavy loss. A number of officers fell but Col. Green escaped, after having his scabbard shattered and the skirt of his coat shot away. In his last letter, dated July 11th, he gives a vivid description of that terrible onslaught, and speaks in glowing terms of the conduct of his men, to whom he was dearly attached, and whose affection was warmly reciprocated by those under his command. After speaking of the hardships he and his men endured, how long they had been without sleep and food, he closes his letter with the following words: 'I do not know what is before me, but trusting in God I will endeavor to do my entire duty.'"
---
Return to the 48th New York Infantry page.
Battle of Olustee home page