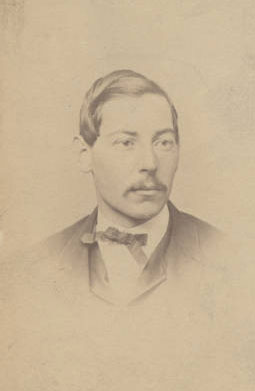 From a Carte de Visite
New York State Military Museum.
Used with permission.
Benjamin Seaward enlisted as a private in the 48th New York on 12 October 1862, when he was either 21 or 23 years old. He was mustered into 'K' Company on 1 November of that year. After being promoted to corporal, he then became a sergeant on 4 November 1863, but his eventual highest enlisted rank was sergeant major. Then on 26 May 1864, he was commissioned as a 2nd lieutenant in 'H' Company. On 23 June 1864, he was transferred from that company to regimental staff to serve as adjutant, where he was promoted to 1st lieutentant on 14 August 1864. Finally, he received the rank of brevet captain on 19 October 1864.
Seaward was wounded twice, once at Fort Wagner, South Carolina, on 18 July 1863 and again at Strawberry Plains, Virginia, on 16 August 1864. He was mustered out, with the regiment on 1 September 1865, at Raleigh, North Carolina.
---
Return to the 48th New York Infantry page.
Battle of Olustee home page.