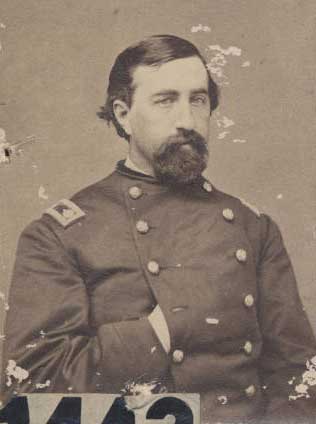 From a Carte de Visite
New York State Military Museum.
Used with permission.
"During the summer of 1861, Colonel Jas. H. Perry went to witness the drill of a Home Guard Company at Montague Hall, known as the Brooklyn Union Rifles, of which Dudley W. Strickland, a young lawyer living in Brooklyn, was the captain and drill master. Colonel Perry was so much pleased with the superior drill of the company that he offered Strickland a captaincy, in his regiment then about to be formed. He accepted on condition that he could name his First Lieutenant. which was granted: and he selected William L. Lockwood, also a young lawyer living in Brooklyn and a life long friend of Strickland. They were both formerly members of the Young American Guards Infantry and Artillery in Cincinnati, Ohio. They both went to work with much enthusiasm to recruit and organize Company H. Captain Strickland was soon ordered to Camp Wyman near Fort Hamilton, to organize camp and superintend drill, etc." — from The History of the Forty-eighth Regiment New York State Volunteers, in the War for the Union. 1861-1865
Dudley W. Strickland was 23 years old when he joined the 48th New York Infantry on 24 July 1861. He became the captain on Company 'H' on 16 August 1861. He was promoted to major on 24 December 1862 and to lieutenant colonel on 18 July 1863. He resigned from the regiment on 9 June 1864. He commanded the regiment when Colonel Barton was promoted to brigade commander, but was not present at the Battle of Olustee.
External Web sites related to the Battle of Olustee
Official report by Major Strickland from St. Augustine, 13 August 1863
---
Return to the 48th New York Infantry page.
Battle of Olustee home page.