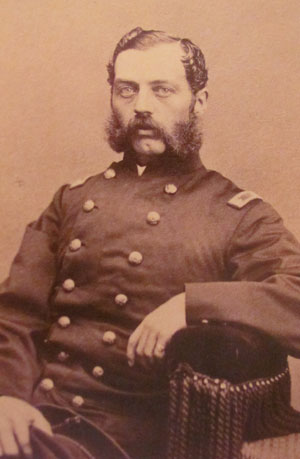 Carte de Visite from the Richard Ferry Collection.
Used with permission.
During the Battle of Olustee, the 48th New York was commanded by Major William B. Coan, as its colonel, William Barton, was commanding the brigade.
William Coan served in the regiment from 8 August 1861 through 1 September 1865. He mustered in with the rank of captain on 27 August 1861, was promoted to Major on 18 July 1863, and to lieutenant colonel on 9 June 1864. He received his final rank of colonel on 3 December 1864 and commanded a brigade at Fort Fisher. After the war, he commanded a division until it was released from service. Coan was wounded three times: at Fort (Battery) Wagner, South Carolina; Olustee, Florida; and Fort Fisher, Virginia.
"William Coan was born in Exeter, Penobscot County Maine on 19 October 1830. He went from Maine to New York when a boy and at the outbreak of the war was a partner in a restaurant on Chambers Street. He went to the front for thirty days with New York's famous Seventh Regiment and returning raised Company E for the Forty eighth New York and was commissioned its Captain. He served through the war from the first to the last being one of the four original commissioned officers of the regiment who remained with it at its final discharge. He was three times wounded once in the leg, once in the ear, and the third, and most serious one, a scalp wound at Fort Fisher. He received repeated mention in official orders for gallantry of conduct in battle. No man ever doubted his bravery. After the war, Colonel Coan settled in Lawrence, Massachusetts and engaged in the grocery business until his death on 28 January 1877." - from The History of the Forty-Eight Regiment New York Volunteers in the War for the Union, 1885.
---
Return to the 48th New York Infantry page.
Battle of Olustee home page