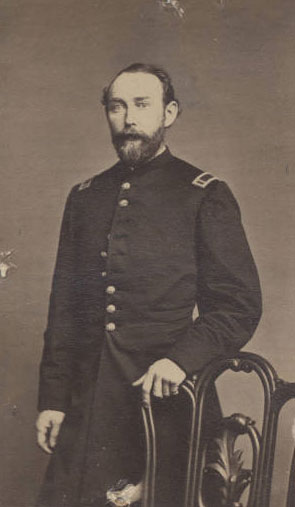 From a Carte de Visite
New York State Military Museum.
Used with permission.
Aaron H. Ingraham, born in 1839, enlisted as a corporal in the 48th New York on 20 August 1861, when he was 22 years old. Although he enlisted at Ellenville, New York, his residence was not listed, On 21 August 1861, he mustered into 'G' Company. On 17 January 1862, he was promoted to quartermaster sergeant. A shrewd trader, Ingraham used this position as an opportunity to earn money for himself by doing business on the side, receiving cases of milk from his parents which he would resell at a profit to the soldiers.
One year later, on 26 January 1863, Ingraham was promoted to 2nd lieutenant in Company 'C', although he often served as the commissary officer for the regiment. He was again promoted on 28 August 1863 to 1st lieutenant in 'F' Company
Lieutenant Ingraham was Killed on 1 June 1864 at Cold Harbor.
External Web sites related to the Battle of Olustee
Access to letters of Aaron H. Ingraham
Lieutenant Ingraham's Short 'Commish' - New York Times
---
Return to the 48th New York Infantry page.
Battle of Olustee home page.