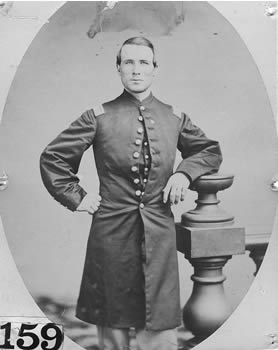 From a Carte de Visite
New York State Military Museum.
Used with permission.
John A. Fee was 27 years old when he joined the 48th New York Infantry as an orderly sergeant. He was commissioned as a 2nd lieutenant on 9 September 1862. He was promoted to 1st lieutenant on 18 July 1863 and then to captain on 6 April 1864. The History of the Forty-Eight Regiment New York Volunteers in the War for the Union lists him in the company rosters as "Died of wounds rec d at Petersburg mine explosion." However, his end of service (death) is listed as 15 July 1864 (another references lists him as dying on 18 July), while the Battle of the Crater did not occur until 30 July. Upon reading the book, this appares to be a mistake, as he is listed in the earlier text as receiving wounds when his unit was drawn up before the Petersburg emplacements in sight of the enemy (Confederates).
---
Return to the 48th New York Infantry page.
Battle of Olustee home page.