Colonel George Paul Harrison
(1841-1922)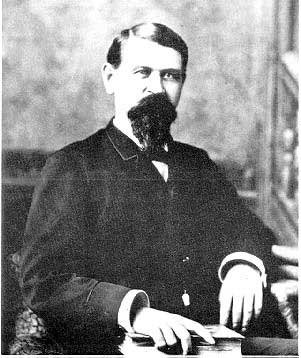 Harrison's Brigade
Finegan's second brigade was commanded by Colonel George P. Harrison, It consisted of the Thirty-second Georgia, Sixty-fourth Georgia, First Georgia Regulars, Twenty-eighth Georgia Artillery Battalion (also known as Bonaud's Battalion and serving as infantry), First Florida Battalion, Abels' Artillery and Guerard's Battery Colonel Harrison was still one month short of his twenty-third birthday, but had already established a solid military reputation for himself.
In January 1861, while a student at the military institute at Marietta, Georgia, Harrison took part in the capture of Fort Pulaski and was commissioned a second lieutenant in the First Georgia Regulars. After serving in Virginia during the winter of 1861-1862, Harrison returned to Georgia and took command of the Fifth Regiment of Georgia State Troops.
Harrison then organized and was appointed colonel of the Thirty-second Georgia Infantry, a regiment he commanded throughout the 1863 siege of Charleston. During the defense of the city Harrison and his unit were stationed at various locations, including James Island, Fort Johnson, Morris Island, John's Island, Fort Sumter and Fort Wagner. At Fort Wagner, he contributed significantly to the bloody repulse of the 22 July 1863 Union attack. Despite his age, by early 1864 Harrison had developed into a seasoned combat commander, displaying the aggressiveness of youth and strong leadership traits, coupled with coolness under fire. As yet untried in commanding a brigade in battle, few doubted that he would continue to maintain his solid reputation.
During the Battle of Olustee the brigade suffered official casualties of 50 killed, 406 wounded and four missing.
After a competent performance at Olustee, Harrison continued in brigade command for the rest of the war. Harrison also commanded a prison camp at Florence, South Carolina in late 1864. He was commended by Union prisoners for his humane treatment of them. Harrison led a brigade during the Carolinas Campaign and at the Battle of Bentonville. Although some works cite him as him as being promoted to brigadier general in 1865, he apparently was never formally advanced to that rank.
In 1865, Harrison moved to Alabama and studied law. While at Auburn University, he served as commandant of cadets. Afterwards, he practiced law and worked as a planter. Harrison served in the Alabama state senate between 1878 and 1884 and was its president in 1882–1884. Harrison was elected as a Democrat to the Fifty-third Congress to fill a vacancy caused by the resignation of William C. Oates (of Little Round Top fame). Harrison was then reelected to the Fifty-fourth Congress and served from 6 November 1894 to 3 March 1897. He again served in the Alabama State senate in 1900 and 1902. George Harrison died in Opelika, Alabama, on 17 July 1922.
Colonel Harrison's Official Report of the Battle
Colonel Harrison's Recommendations for gallantry
---
External Web sites related to the Battle of Olustee
Wikipedia page on Colonel Harrison
---
Confederate Order of Battle
Battle of Olustee home page
http://battleofolustee.org/