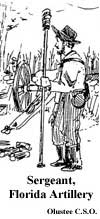 Drawing from the Olustee Post Card Set.
Officially known as Company B of Florida's Milton Light Artillery, Abell's Artillery was commanded by Captain Henry E. Abell at Olustee.
Joseph L. Dunham organized the the Milton Light Artillery at Appalachicola, Florida in November 1861 and became its captain. The unit was mustered into Confederate service later that month. At that time, Lieutenant Henry E. Abell served as the unit's senior 1st lieutenant. Later the unit split into Companies A and B, with Captain Durham retaining command of Company A, and newly promoted Captain Abell assuming command of Company B. Originally, Company B had two artillery pieces, but added two more later.
In early February 1864, during the opening of the 1864 Florida campaign, Federal troops surprised Companies A and B at Pickett's, west of Jacksonville on the Florida Atlantic, and Gulf Central Railroad. The Milton Light Artillery lost five cannon (including one captured at Baldwin) in the attack, along with 18 prisoners and much of its camp equipment, including their battle flag. As a result of the loss of their cannon, a detachment from Company B served as infantry with the First Georgia Regulars at Olustee, suffering losses of six men, including two who died of their wounds.
The Milton Light Artillery was named for John Milton, Florida's war-time governor, who served from 7 October 1861 to 1 April 1865.