Twenty-eighth Battalion, Georgia Siege Artillery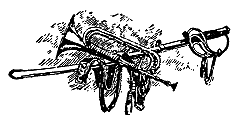 During the Olustee Campaign, the Twenty-eighth Battalion served as infantry under the command of forty-three year old Major Augustus Bonaud. A detachment from the Florida Camp of Instruction, the Florida Conscript Company, was attached to the battalion at Olustee, and there is a slight possibility that part of the Second Florida Battalion was as well.

In 1861, Augustus Bonaud was a native of France who had settled in Savannah. There he operated a dance school, was a liquor merchant and also owner of the Marshall House Hotel. At the start of the war he formed Company F, 22nd Georgia Artillery.

The 28th Battalion formed at Savannah in 1863 by uniting a number of independent heavy artillery companies. Olustee was the first major engagement for the unit. Comparatively small in numbers, the unit suffered over 100 casualties: 12 killed, 95 wounded, and two missing. The Florida Conscript Company suffered losses of six killed or died of wounds, and nine wounded. It is unclear if these loses were included in the totals for Bonaud's Battalion.

Two companies of this battalion, F and H, served with the Army of Northern Virginia. Companies F and H were involved in the Petersburg siege south of the James River and the Appomattox Campaign. It surrendered with no officers and seven enlisted men. The rest of the battalion, five companies, remained in the Department of South Carolina, Georgia and Florida. They served at Savannah and in the North Carolina Campaign. They surrendered on 26 April 1865. Major Augustus Bonaud was still in command.
---
Newspaper article on casualties at Olustee
---
External Web sites related to the Battle of Olustee
Taylor County Casualties
Muster Roll for Company D
Muster Roll for Company G
---
28th Battalion, Georgia Artillery Reenacting Units
(Please inform Webmaster of new additions, changes in URLs or dead links.)
---
Confederate Order of Battle
Battle of Olustee home page
http://battleofolustee.org/