Brigadier General Truman Seymour, U.S.A.
(1824-1891)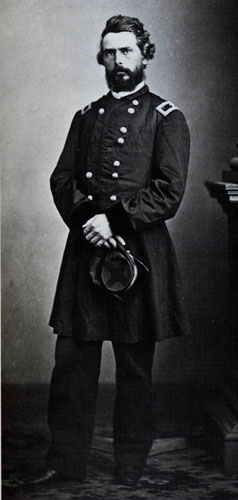 U.S. Army Military History Institute
The Union army was commanded by Brigadier General Truman Seymour. The commander was a thirty-nine year old Vermonter, son of a Methodist minister and 1846 graduate of West Point. An artilleryman, Seymour served in the Mexican and Florida wars, receiving several brevet promotions. He was present at the Fort Sumter bombardment in April 1861, and in early 1862 was promoted to brigadier general,serving in the Army of the Potomac's Fifth Corps during the Peninsula Campaign. At Second Bull Run, South Mountain and Antietam he performed capably, particularly in his brigade's capture of Turner's Gap, Maryland. Seymour was sent to the Department of the South late in 1862, where he gained notoriety for the unsuccessful and controversial assault on Battery Wagner in July 1863. Wounded at Wagner, he saw little field duty for the remainder of the year.
Seymour was one of the most experienced subordinates of Major General Quincy Gillmore, commander of the Union Army's Department of the South. Seymour was chosen to command a portion of the troops selected for the Florida campaign. Following Gillmore's return to department headquarters at South Carolina, Seymour found himself in overall charge of the expedition.
After the initial Florida landings, Seymour placed a number of units on garrison duty at Jacksonville and other locations., He then organized his remaining units into three infantry brigades, a brigade of cavalry and mounted infantry, and supporting artillery elements. The first brigade of Seymour's small army, commanded by Colonel William B. Barton, consisted of the Forty-seventh, Forty-eighth, and 115th New York Infantry. These veteran units provided the Federal commander with his most reliable infantry force in the Florida campaign. The other two brigades were commanded by Colonel Joseph R. Hawley, who commanded the 7th Connecticut Infantry, 7th New Hampshire Infantry, and the 8th United States Colored Troops; and Colonel James Montgomery, who commanded the 35th United States Colored Troops [1st North Carolina Colored Volunteers] and the 54th Massachusetts Infantry. The latter two brigades had units comprising experienced and untested troops.
The Union army spent the night of 19 February at Barbers Station, about twenty-five miles east of Lake City.
Full-bearded, but with a deceptively youthful appearance, Seymour's reputation was that of an aggressive, sometimes rash commander, who often succeeded in battle, but at a heavy cost. Seymour's performance at Olustee reaffirmed this estimate of his generalship, and he was severely criticized in the northern press after the defeat.
Despite such criticism, Seymour next received assignment to the Army of the Potomac where he comanded a brigade. Confederate forces captured him at the Wilderness in May 1864, but, following an exchange of prisoners, he commanded a division in the Sixth Corps during the war's latter stages. After the Union capture of Petersburg, Virginia, Seymour received the brevet rank of major general of volunteers and was also brevetted a brigadier general of the regular United States Army, both to date from March 13, 1865.
After the end of the war, Seymour remained in the regular Army until November 1876. He served in the 5th U.S. Artillery, and later commanded forts in Florida, Massachusetts and Maine. After retiring from the Army, he then left the United States, and resided in France and Italy, dying in 1891 at Florence, Italy.
Brigader General Seymour:
Reports on early skirmishes, 11 February 1864
Reports on initial advance into Florida, 11 February 1864
Reports on initial advance into Florida, 12 February 1864
Requests permission to remain across the St. Mary's, 13 February 1864
Reports on progress into Florida, 17 February 1864 [first report of that date?]
Reports on progress into Florida, 17 February 1864 [second report of that date?]
Reports success in raid on Gainesville, 17 February 1864
Issues General Orders No. 5, 17 February 1864
Files initial report of the Battle, 20 February 1864
Explains the defeat at Olustee, 22 February 1864
Writes letter to Brigadier General Finegan, CSA, 23 February 1864
Reports on casualties at Olustee, 25 February 1864
Reports to General Gillmore, 26 February 1864
Reports on Union and Confederate Wounded, 2 March 1864
Issues General Orders No. 13 to his troops, 10 March 1864
Commends units and officers on their performance, 25 March 1864

Editor's Note: Seymour was a graduate of West Point and was on duty at Fort Sumter when the Confederates opened fire and the Civil War began. After the fort was surrendered to the Confederates, the U.S. Army officers present had their photograph taken, then Captain Truman Seymour among them.

Seated from the left are: Captain Abner Doubleday Major Robert Anderson (Fort Sumter Commander),
Surgeon Samuel W. Crawford and Captain John G. Foster.
Standing from the left are: Captain Truman Seymour, Lieutenant G.W. Snyder, Lieutenant Jefferson C. Davis,
Lieutenant R.K. Meade and Captain T. Talbot. All but Synder, Meade and Talbot would become generals.
U.S. Army Military History Institute
---
Boston Journal article on Brigadier General Seymour's laxness, March 10, 1864
External Web sites related to the Battle of Olustee
Wikipedia page on Truman Seymour
---
Union Order of Battle
Battle of Olustee home page
http://battleofolustee.org/