Colonel James Montgomery
(1814-1871)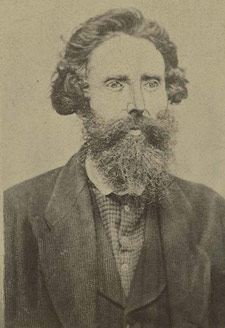 circa 1858

Montgomery's Brigade
Seymour's final infantry brigade was commanded by Colonel James Montgomery, certainly one of the most colorful and controversial figures of the Civil War. Montgomery had been intimately involved in the Kansas border disputes before the war, acting as one of the chief lieutenants of James Lane.
Montgomery remained in Kansas until December 1862, when, after continued conflicts between himself, Lane, and Charles Jennison over the command of a newly-organized black regiment, he left the state for Washington. After meetings with abolitionist George Stearns, Kansas Senator Samuel Pomeroy and President Lincoln in January 1863, Montgomery was authorized by the War Department to recruit and organize a black regiment in the Department of the South. The Kansan's unit would eventually be known as the Second South Carolina Colored Volunteers.
Despite the slowness of his initial recruiting efforts, Montgomery and his unit participated in the early 1863 occupation of Jacksonville, an operation marred by the subsequent burning of much of the town. Evidence exists that the town was fired by New York troops. In June 1863, Montgomery gained further notoriety with his destruction of the Georgia coastal town of Darien. He informed his aristocratic subordinate, Colonel Robert Gould Shaw, commanding the 54th Massachusetts, that he burned the town because "we [black units] are outlawed, and therefore not bound by the rules of regular warfare." In his classic, The Sable Arm, Dudley Taylor Cornish writes that Montgomery was a "primitive patriarch uninhibited by any effete Eastern notions of the rules of civilized warfare."
In the Florida Campaign, Montgomery commanded a brigade, containing the Fifty-fourth Massachusetts and First North Carolina Colored Volunteers (just recently redesignated as the Thirty-fifth United States Colored Troops). One of his regiments, the 35th U.S.C.T., was as yet untried in combat, while the other, the 54th Massachusetts, was the most famous black unit of the entire war. At Olustee, Montgomery's brigade protected the withdrawal of the defeated Union army, allowing it to escape back into the Jacksonville defenses. Montgomery's career declined rapidly after Olustee, and he resigned his commission in September 1864.
Colonel Montgomery's official report of the battle
---
External Web sites related to the Battle of Olustee
Wikiepedia page on James Montgomery
---
Union Order of Battle
Battle of Olustee home page
http://battleofolustee.org/