Confederate Cavalry Brigade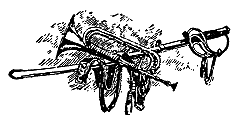 In addition to the two brigades of Colquitt and Harrison, Finegan's army included Colonel Caraway Smith's cavalry force. This force included Colonel Duncan L. Clinch's Fourth Georgia Cavalry, the Fifth Florida Cavalry Battalion under the command of Major George Washington Scott, and a portion of the Second Florida Cavalry, commanded by Lieutenant Colonel Abner H. McCormick.
Finegan's cavalry and artillery were generally of poor quality, due mainly to the inferiority of their weapons and equipment. In particular, the cavalry horses were weak and underfed, and probably not able to withstand the rigors of an active campaign. Overall, however, the Confederates had amassed a surprisingly potent force with which to oppose the Federal advance, and in a remarkably short time. In his official report of Olustee, Finegan estimated his infantry force at 4,600 and his cavalry at less than 500, with his artillery units probably including several hundred effectives.
The mounted troops saw little combat, primarily skirmishing with the Federals before the battle, guarding the Confederate flanks, and conducting a leisurely pursuit in the battle's aftermath. Smith's superiors criticized the cavalry's failure to more vigorously pursue the defeated Union troops. Casualty totals for the entire brigade numbered just four men wounded.
Colonel Caraway Smith's Report of the Battle and official correspondance regarding investigation into his actions
---
External Web sites related to the Battle of Olustee
Wakulla County, FL Civil War Page Includes muster rolls of:
Companies D, E, and I, Second Florida Cavalry, and
Companies C and G, Fifth Florida Cavalry Battalion.
---
Confederate Order of Battle
Battle of Olustee home page
http://battleofolustee.org/