Fifth Florida Cavalry Battalion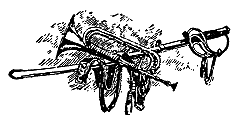 Major George Washington Scott's Fifth Florida Cavalry Battalion played only a small role in the battle. Prior to Olustee, Scott's men had participated in various skirmishes and delaying actions against the Federal troops. On February 20, the battalion "...was not brought upon the field until late in the evening, in consequence of the jaded condition of the men and horses from hard service for the twenty-four hours preceeding." Scott's men, however, "...joined with Lieutenant-Colonel McCormick on the right about the middle of the contest and rendered him prompt assistance." No casualties were listed among the perhaps 200 men in the battalion.
---
External Web sites related to the Battle of Olustee
Wakulla County, FL Civil War Page - Includes muster rolls of Companies D, E, and I, Second Florida Cavalry, and Companies C and G, Fifth Florida Cavalry Battalion. Also, a photo taken of some of these men at a 1904 reunion, and a listing of many Wakulla County Civil War veterans of these units.
---
5th Florida Cavalry Reenacting Units
(Please inform Webmaster of new additions, changes in URLs or dead links.)

?
---
Confederate Order of Battle
Battle of Olustee home page
http://battleofolustee.org/