Date of photograph unknown.

Edwin Bacon, Jr. was born on 28 August 1839 in Walthourville, Georgia. Bacon joined the 32nd Georgia Volunteer Infantry on 17 May 1861, as a major, as it was being formed. He was elected its lieutenant colonel on 17 November 1863, to rank as such from 20 October of that year. He surrendered with the regiment on 26 April 1865 at Greensboro, North Carolina. The colonel of the 32nd Georgia was Colonel George Harrison, who served as brigade commander at the Battle of Olustee and other battles. As such, Lieutenant Colonel Bacon led the regiment in battle, except at Olustee when he was on leave. At the Battle of Rivers' Bridge on 3 February 1865, Harrison's brigade was part of McLaw's Division in the Army of Tennessee. Harrison filed this report after the battle:
I have the honor to report the number of casualties in the detachment from my brigade under command of Lieutenant-Colonel Bacon, Thirty-second Georgia Infantry, in the engagement of the 3d instant at Rivers' Bridge:
During that battle, Bacon is quoted as stating, "I can hold my position here until Christmas, if you can keep them off my flanks" At that time, Harrison's Brigade consisted of the 32nd and 47th Georgia Infantry regiments, the 5th Georgia Reserves and Erle's Battery. Bacon's father, while too old to fight in the Civil War, apparently lead a group of older men who assisted as they were able. Following the war, Bacon worked at several endeavors and finally ran a lumber business in Eastman, Georgia. On 28 July 1869, he married Sarah "Sallie" Jane Willingham, who was born 28 March 1849 in Allendale, South Carolina. Together they had four daughters and one son. Edwin Bacon died on 30 November 1915; Sarah lived nearly two more years, dying on 11 August 1917. The following are additional photographs of Edwin Bacon, his War Department record and a medal presented to Sallie Bacon, his daughter, by the Daughters of the Confederacy.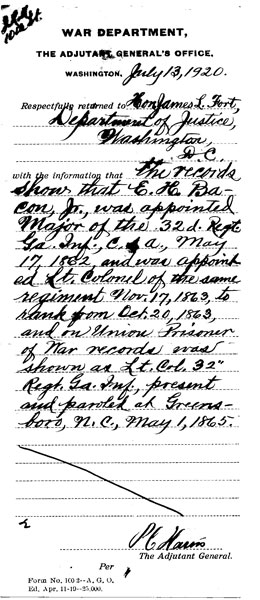 LtCol Edwin H. Bacon's War Department Record, 13 July 1920.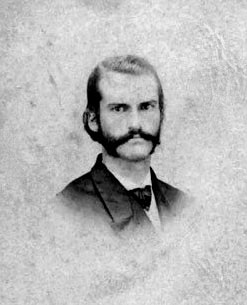 Date of photograph unknown.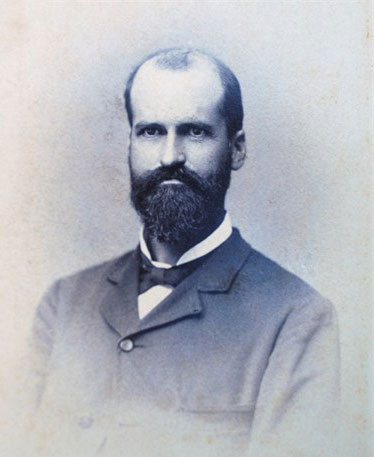 Date of photograph unknown. Probably post-war.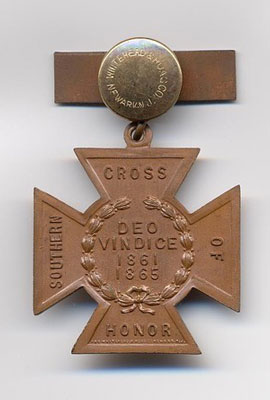 Bacon's Daughters of Confederacy
Southern Cross of Honor, awarded 1930.

Some detailed information on Edwin Bacon is also found in Biological Souvenir of the States of Georgia and Florida: Containing Biographical Sketches of the Representative Public, and Many Early Settled Families in These States (published by F.A. Battey & Company, Chicago, 1889):
Our subject was educated in Springfield, Savannah and Walthonrville, Georgia. Took degree of M.D. in Savannah Medical College, class of 1860, and practiced but a few months when the war opened. His first service in the Confederate army was the taking of Fort Pulaski before the State seceded. He enlisted in the spring of 1861, in a Company of Savannah volunteer guards. This company was organized in 1802. He belonged to it two years before the war opened. Each year he won the highest prize for being the best drilled man in the company.

He served three months in the above company and then was made adjutant of the Fifth Georgia State Troops, later made major of the Thirty-second Georgia Regiment Infantry.

Early in 1863 was the first time he was under fire, on James Island among the forts and batteries on the South Carolina coast. He was in Fort Wagoner on the night of July 18, 1863, when that terrible assault was made. He was in command of the Thirty-second Regiment in an engagement on John's Island when the enemy were driven off the island, all done before sunrise. He commanded his regiment on the South Carolina side of the Savannah River and fought Sherman in front all the way through the Carolinas on up to Greensboro, N.C., where they surrendered. During this time he had three severe battles, namely: River's Bridge, S. C., Avery's Borough and Bentonville, N. C.

From a reliable source we extract the following: "Col. E. H. Bacon of the Thirty-second Georgia Regiment was ordered (by Gen. McLaws, Division Commander), with the Thirty-second and Forty-seventh Georgia Regiments, reinforced by 250 cavalry, in all about 1,250 persons, to cover a front of five miles along the Salkehatchie River, the next point to make a stand after leaving the C. & S. R. R. A galling fire was kept up by the enemy all day. Federal forces were increasing and the little band of C.A.S. forces were being thinned. Gen. McLaws ordered Col. Bacon to retire his army but save the artillery. The sun had gone down, the shades of night were fast gathering and the enemy were rapidly approaching. Col. Bacon ordered four rounds from the artillery and the same from the infantry to be fired just as rapidly as possible. This done, the horses were attached to the artillery before the smoke had cleared away, and all retreated to the Edisto River with comparatively little loss."

At Bentonville, N. C., was a three days fight. Col. Bacon was in command of the Thirty-second Georgia Regiment, and had a horse killed while riding him. It should have been mentioned that our subject was promoted to lieutenant colonel, July, 1863, before he was twenty-four years of age, and served as colonel from that time until the close of the war, his colonel acting as brigadier­general. During his service in the army he was not wounded, but had a button shot off his hat, and was knocked down once by what was presumed to be a spent ball.

The war closing, he practiced medicine for a short time, tried the drug trade also, then went into cotton planting, raising from 100 to 400 bales annually. This he continued for fifteen years with poor success in the main. In 1881 he began the saw-mill business, and in that has had a very flattering success. His marriage occurred July 28, 1869, when Miss Sallie Willingham, daughter of Thomas H. and Cecilia (Baynard) Willingham, became his wife. The latter was a very influential and wealthy family from Allendale, S. C.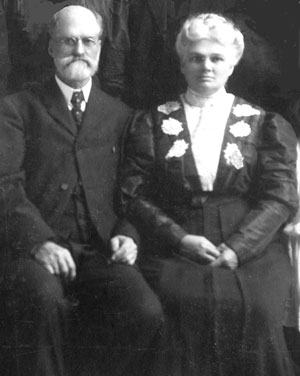 1903 photograph of Edwin and Sallie Bacon.
---
Information and photographs provided by Marie Fort Withrow (Marie.Withrow at verizon.net), Lieutenant Colonel Bacon's great-great-granddaughter. She is also the great granddaughter of Bacon's daughter Sallie.
---
External Web sites
Edwin Henry Bacon grave site
Official Records - Battle of Rivers' Bridge
---
Return to the 32nd Georgia Infantry page.
Battle of Olustee home page