Sixth Florida Infantry Battalion

This organization was formed in the late summer and early fall of 1863 from units which had served as independent volunteer companies in different parts of the State. These companies were commanded by Captains John C. Chambers, John W. Pearson, Samuel Hope, James Tucker, A.A. Stewart, J.C. DuPree, S.M.G. Garry, and Lieutenant James Washington Pearce. Prior to Olustee, elements of the unit had garrisoned different points in north and central Florida, but had seen little combat.
Major Pickens Bird led the Sixth at Olustee, where it lost eighty-two men, including nine killed or mortally wounded (one officer and eight enlisted men), and seventy-three wounded (four officers and sixty-nine enlisted men) for a total of eighty-two casualties according to the published compilation in the Official Records.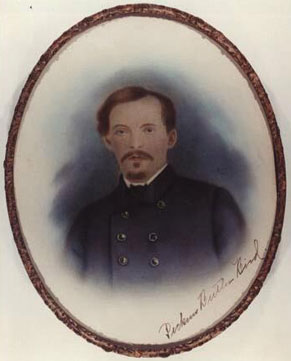 Major Pickens Butler Bird
Illustration provided by Odis G. Kendrick, through Bill Cudlipp
An historian of the unit lists an additional two men as having deserted during the battle. A company-by-company casualty total compiled by the same historian (broken down by company as it existed when it was the Ninth Florida Infantry Regiment) is as follows:
Company A - five wounded;
Company B - one died of wounds, five wounded;
Company C - five killed, four wounded;
Company D - five killed or died of wounds, ten wounded;
Company E - one wounded;
Company F - two killed or died of wounds, nine wounded;
Company G - four killed or died of wounds, nine wounded;
Company H - two killed or died of wounds, seven wounded, two deserted;
Company I - two killed or died of wounds, three wounded;
Company K - one died of wounds, seven wounded.
After the Battle of Olustee, the troops between Waldo and Jacksonville were combined and Lieutenant Colonel John Marshall Martin was placed in command of the Battalion.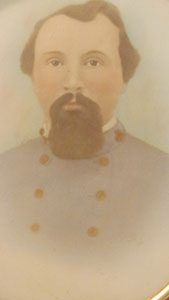 Lieutenant Colonel John Marshall Martin
Hand tinted Albumen photo, photographer unknown
From the Richard Ferry Collection.
Used with permission.
Early in May 1864, General Patton Anderson, Commanding the District of Florida, received from the War Department an order to send a good brigade to Richmond Virginia with all possible expediency. Brigadier General Joseph Finnegan was ordered to immediately proceed to Virginia with his brigade, which included the 6th Florida Battalion under Lieutenant Colonel Martin. The brigade arrived at Richmond, Virginia 25 May 1864, and joined Anderson's Division, of which Holmes was then commander, and then Hill's Corps at Hanover Junction, 28 May 1864. A number of other companies were added to the 6th Battalion, which then became the 9th Florida Regiment under the command of Colonel Martin.
The unit participated at the Battle of Cold Harbor, where Major Pickens Bird was killed. After Cold Harbor, Finnegan's Brigade, which now consisted of the 2nd, 6th, 8th, 9th, 10th and 11th Florida Regiments, took up the line of march for Petersburg. On 23 June 1864, they moved from the breastworks under heavy fire of shell and canister, and marched down the Weldon Road six miles below, and drove back the enemy who were tearing up the railroad.
On 30 June 1864, at the Battle of Ream's Station, the Florida Brigade marched, reached the battlefield at daybreak, and attacked the enemy, driving them back in a running fight four miles, capturing seven pieces of artillery, many horses, a few prisoners and 1,300 freed negro slaves. On the morning of 21 August, the Florida Brigade advanced within one hundred yards of the Federal breastworks on the Weldon Railroad, where the enemy was strongly entrenched. Repeated charges were made to dislodge them, but failed. The loss in killed and wounded was very severe. Lieutenant Colonel John W. Pearson was so severely wounded in this fight that he died in Augusta, Georgia while on his way home, and was buried in Laurel Grove Cemetery in Savannah, Georgia.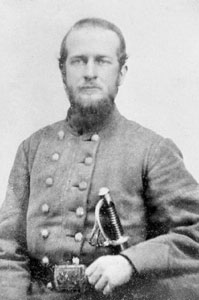 Lieutenant Colonel John W. Pearson
Photographer unknown.
Provided by Jane Dux duPont, Jacksonville, FL,
LtCol Pearson's great-great granddaughter
Used with permission.
The death of Lieutenant Colonel Pearson left the 9th Regiment with no field officers, except Colonel Martin. An attempt was made to have outsiders appointed to these positions, but Colonel Martin objected on the ground that Captains in his regiment had earned promotion and were entitled to the offices. For some reason the War Department failed to make these deserved promotions, and the 9th Regiment served to the close of the war without either a Lieutenant Colonel or Major.
On 7 December 1864, the Florida Brigade, of which the 9th was a part, made a forced march of 30 miles and attacked Union troops at Bellfield on 9 December 1864, but the enemy numbering 20,000, who had been on a raid, declined to accept battle and retreated. The Florida Brigade returned to camp foot-sore, having marched over frozen roads and through sleet and snow for more than one hundred miles.
Early in February 1865, the 9th was engaged at Hatcher's Run, opposing the Federal attempt to extend their line of battle.
The Brigade then was ordered to winter quarters, but before reaching them received orders to return to reinforce General Gordon south of Hatcher's Run. In this engagement, the Brigade numbered but 3,500 effective men. After a charge the enemy fled in confusion, and night ended the battle.
On the morning of 2 April 1865, General Lee's lines were broken, and the retreat began. The 9th Regiment retreated by way of High Bridge and marched to Farmville, Virginia. There it halted and fortified for an attack which was repulsed with heavy loss to the enemy. This was the last battle in which the 9th Regiment was engaged. The 9th Florida surrendered 9 April 1865 at Appomattox Court House, with an effective strength of 15 officers and 108 enlisted men.
The field officers of the 6th Battalion/9th Regiment Florida were Colonel John M. Martin, Major Pickens B. Bird, and Acting Colonel Robert B. Thomas. The regiment served with Perry's-Finegan's Brigade, Anderson's-Mahone's Division, 3rd Army Corps, Army of Northern Virginia.
---
David Pearce (cdpearce@wizard.com) provided most of the history of the 6th Battalion/9th Regiment that appears above.
---
Photograph of Capt James Tucker, Company D
1st Lt James Pearce, Company E
1st Sgt Peter Perry, Company F
Letters of Pvt James Terrell, Company F
Pvt John Proctor, Company K
---
6th Florida Battalion Reenacting Units
(Please inform Webmaster of new additions, changes in URLs or dead links.)

?
---
Confederate Order of Battle
Battle of Olustee home page
http://battleofolustee.org/