1st Sergeant Peter Boyer Perry
9th Florida Volunteer Infantry
(6th Florida Infantry Battalion)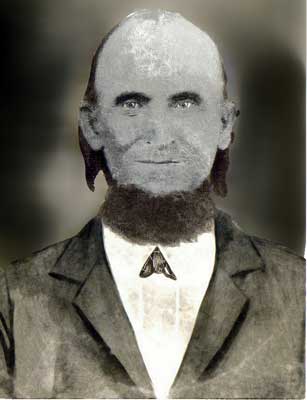 Date unknown.
Peter Boyer Perry was born on April 11, 1823 in Lancaster County, South Carolina. He served on both the Seminole and Mexican wars and, according to family tradition, "claimed to be and doubtless was the first to plant the flag of the United States upon the walls of the City of Mexico." Beginning in 1845, he earned a living as a farmer in Oxford, Sumter County, Florida. He married Elizabeth Duke sometime before the War. He enlisted in the 6th Florida Infantry Battalion at Lake City on July 29, 1863.
According to one source, he was promoted to company 1st Sergeant on November 12, 1863. After his unit was transferred north to Virginia and became a part of Company F, 9th Florida Infantry Regiment, he served with that unit and was present on the last roll when the Army of Northern Virginia on April 9, 1865.
A second source lists him as being mustered in August 1863, attaining the rank of 1st Sergeant, but being mustered out during October 1864.
The image and information on Peter Boyer Perry was provided by his great-great-great granddaughter, Donna I. Hackett (dhackett@embarqmail.com).
---
6th Florida Infantry Battalion
Battle of Olustee home page
http://battleofolustee.org/