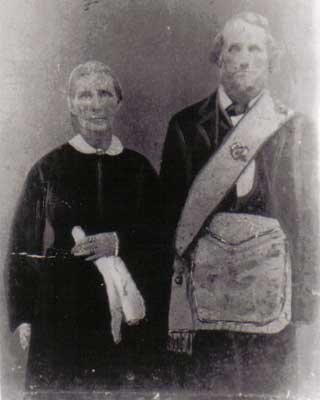 John Proctor and his wife. Date unknown.
John Proctor was living in northeast Marion County with his family when he left in October of 1862 to walk to Lake City. Once there, he enlisted in the 6th Florida Infantry Battalion. He was with that battalion at the Battle of Olustee and suffered a slight wound.
Later, the remnents of the 6th Florida Infantry Battalion were transferred to Virginia, where they became part of Company K, 9th Florida Infantry Regiment. Proctor served with the 9th Florida and was present on the last roll when the Army of Northern Virginia surrendered on 9 April 1865. From this undated photograph, it is apparent that he was a Mason and proud to be one.
The image and information on John Proctor was provided by his great-great-great granddaughter, Donna I. Hackett (dhackett@embarqmail.com).
---
Return to the 6th Florida Infantry Battalion apge.
Battle of Olustee home page
http://battleofolustee.org/