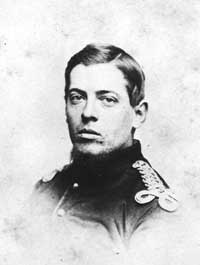 ---
HDQRS. LIGHT Co. C, THIRD RHODE ISLAND ARTY.,
Jacksonville, Fla., March 7, 1864.
SIR: I have the honor to report, in compliance with instructions from headquarters District of Florida, Department of the South, the part my command, a section of Light Company C, Third Rhode Island Artillery, took at the battle of Olustee, February 20, 1864.
I arrived at the battle-field at 3 p.m., and was immediately ordered into position on the left of Light Company M, First U.S. Artillery. My position was then changed to the left, bringing my section on the extreme left. I immediately opened on the enemy's cavalry with 3 1/2 and 4 second shells, with an occasional round of canister at their infantry in front. The enemy were within 50 yards of my guns and advancing and my gunners and horses falling rapidly, when I received a suggestion from Captain Elder, Light Company B, First U.S. Artillery, to retire. One of my pieces was sent to the rear to act as reserve with the caissons, all the horses and gunners being disabled and killed. During the rest of the action I received my orders from Captain Elder, Light Company B, First U. S. Artillery. My last charge was double canister at 160 yards, and I then received orders to retreat.
My men behaved so well that it would be impossible to notice any individual case of gallantry. My loss was 6 men wounded. 1 man killed, and 7 horses disabled and killed, being in action nearly four hours.
I am, captain, very respectfully, your obedient servant,

HENRY H. METCALF,
First Lieutenant Co. C, Third Rhode Island Artillery.

Chief of Artillery, District of Florida.
---
Photograph of Lt. Henry H. Metcalf
---
Copied from The Official Records of the War of Rebellion.
---
Other Reports from Olustee
Battle of Olustee home page
http://battleofolustee.org/