"Second Lieut. Levi Sheffer entered the 115th as a private in Co. G, from Saratoga Co., N.Y. Early in the war he became a member of Fremont's Body Guard, and served with that officer through his various movements and battles in Missouri. In August, 1862, he was appointed sergeant of Co. G, soon afterward orderly sergeant, and in Jan. 1864, was commissioned 2d Lieut. of the same company. At Beaufort, S.C., Co. G. presented him with a sword, sash and belt, as a token of their esteem for him. At Olustee he was shot through the heart, and died almost instantly. His body fell into the hands of the enemy."

- from The Iron Hearted Regiment: Being An Account of the Battles, Marches and Gallant Deeds Performed by the 115th Regiment N.Y. Vols. - written by 1st Lt. James H. Clark, Company H, in 1865.

Below are two views of Lieutenant Sheffer's smoking pipe.

From the Richard Ferry Collection. Used with permission.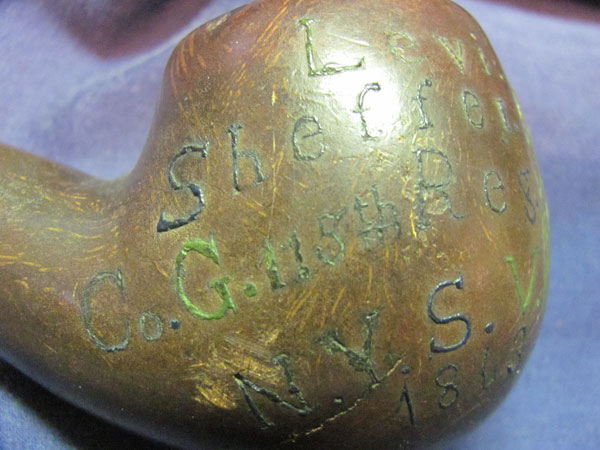 The inscription this side reads, "Levi Sheffer Co. G 115th Reg. N.Y.S.V. 1863."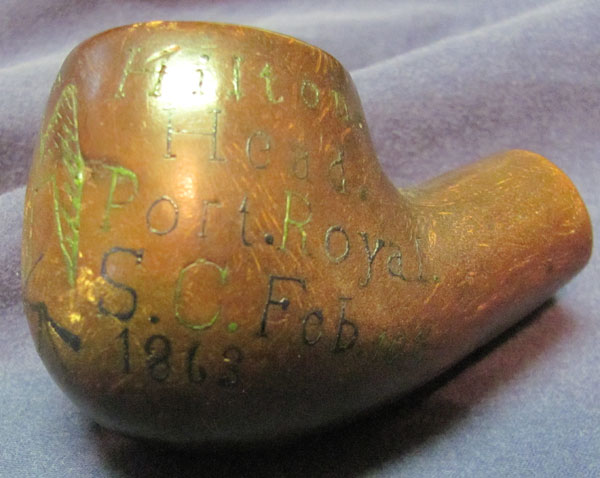 The inscription on this side read, "Hilton Head Port Royal S.C. Feb 10th."
---
Return to the 115th New York Infantry page.
Battle of Olustee home page