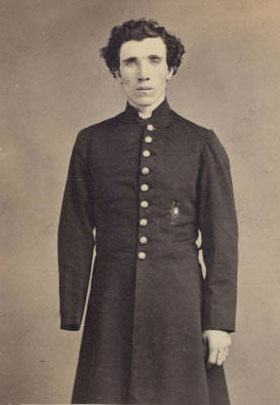 From a Carte de Visite
New York State Military Museum.
Used with permission.
James English was 21 years old when he enlisted as a private in the 115th New York Infantry on 12 August 1862. He joined at Florida, New York, but his residence was not listed. On 13 August he was mustered into 'D' Company. He was taken prisoner with the rest of the regiment on 15 September 1862 at Harper's Ferry, Virginia, and paroled the following day.
Private English was wounded and lost his right wrist or arm (accounts differ) on 7 September 1862 due to an accidental dischage of a weapon. He was discharged for disability on 24 December 1862, at Washington, D.C. However (according to the The Iron Hearted Regiment, published 1865), he enlisted again in June 1863, in the 5th U.S. Regulars, and was wounded three more times: at Charleston, in the battle of the Wilderness, and on the Weldon railroad. According to a book on New York Regiments, English ended the war as a sergeant.
---
Return to the 115th New York Infantry page.
Battle of Olustee home page.