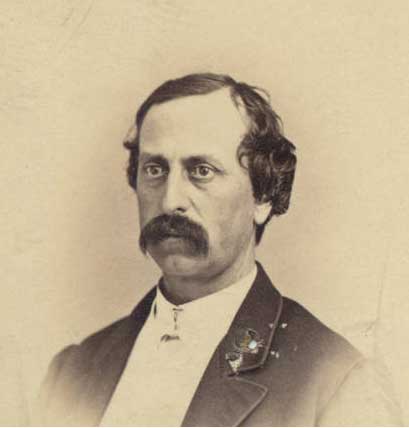 From a Carte de Visite
New York State Military Museum.
Used with permission.
Before the war, Ezra L Walton was captain of the Syracuse (New York) Citizens' Corps and later served as as Colonel of the 51st Regiment, New York State Militia.
Ezra L. Walrath was 34 years old when, on 13 May 1861, at the outbreak of the war, he was commissioned colonel in the 12th New York Infantry and led that regiment in some of the early battles of the war. Unfortunately, he became seriously ill with lung congestion and resigned his position in September 1861.
Upon his recovery he joined the 115th New York Infantry on 25 September 1862, and was commissioned as a captain in command of 'I' Company. He was promoted to major on 27 June 1863, and to lieutenant colonel on 29 May 1865 by President Johnson for gallant and meritorious conduct at the storming of Fort Fisher, North Carolina. Major Walrath was listed as wounded at Olustee, and also on 16 August 1864 at Deep Bottom Run, Virginia. Lieutenant Colonel mustered out on 17 June 1865 at Raleigh, North Carolina.
Born in 1827 or 1828, Ezra Walrath died on 26 June 1894.
External Web sites related to the Battle of Olustee
Obituary in The Syracuse Courier, June 27, 1894
---
Return to the 115th New York Infantry page.
Battle of Olustee home page.