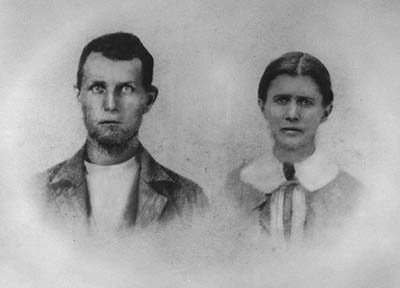 James and Emily Lee.
Zachry James Lee was born August 7, 1831, on a farm in the Rockbridge District of Gwinnett County, Georgia. Much of this farm was destroyed by Sherman's troops on The March to the Sea, and the main house burned in 1876.
Emily Harris Wideman was born March 9, 1832, in Franklin County, Georgia. Thirty-some years later, Emily's brother was a prison guard at Andersonville.
Zachry James married Emily Harris Wideman of Meriwether County, Georgia on December 24, 1848. They were both very young at the time as Zachry was 18 years old and Emily was 17 years old. Zachry and Emily settled on a small farm in DeKalb County, Ga.
The 1850 Georgia Census had Zachry and Emily living near his brother Edmund, in the Diamond District of DeKalb County. The farm appears to be a modest. The census says his property was valued at $500. Both are listed as farmers. Zachry James Lee is listed on the 1850 Slave Scheduals as owning one male slave, age 14. We will never know more about this farm due to several fires that consumed the DeKalb County Court House. (None were caused by General Sherman or his men.) By 1850, they already had one child, James Wideman Lee. Over the next ten years, they had four more children.
Knowing their descendants, we can assume that there was much love in this family. It was very religious and family oriented. One just has to look at the letters written between their sons later in the century to their sister, Almanza, discussing the family, etc. There is an obvious closeness.
In Zachry's Will, which he wrote prior to his enlistment in March 1863, he talks about his love for his wife, his children and the importance of their education. He stressed education and its continuation should he die in the war.
---
This Will is found at the Georgia Archives.
Georgia - Gwinnett County
I, Zachry J. Lee of said County being of said mind and disposing memory and engaged in the war and will knowing the uncertainty of human life am admonished to make a deposition of the worldly goods a kind providence has helped me with, do make, declare and publish this my last Will and Testament hereby revoking all other Wills heretofore by me made.
Item 1. I resign my body to the Tomb and my Spirit to God who gave it. Amen.
Item 2. My will and desire is that my wife beloved wife Emily H. Lee keep all my property - both real and personal together for the purpose of raising and educating my seven children. Viz: James W., Martha A., Almanza A., Rebecca Ann, William R., Effy and Joseph Z. Lee. For her to control said property in the best way she can for her benefit and the use ... stated.
Item 3. I will that in the event my wife should find that any of the property, I may ....... and .......... of may become of but better use, to her unmanageable she shall be authorized to sell it, and buy other property of similar value that may be of more service to her.
Item 4. I will that in the event the my wife should intermarry (sic) with another man then all my property, both real and personal be equally divided between my children and my wife (Hear and Hear) about making my wife equal with the children, her part for her forever.
Item 5. I hereby appoint and ordain my beloved Emily H. Lee Executrix of this my last will and Testament to carry out the 4th Item as above set forth. Signed, sealed and declared and acknowledged to be the last Will of Zachry Lee at his .... in the presents of each other and in the presences of the Testator this 14th day of November 1862.
Signed: Z. J. Lee
Witnessed by: W. O. Lee, M. A. Sewell, R. I. Sewell, R. A. Whitlow and W. B. Smith
There are amendments to this Will... the first is Emily petitioning the Court of Ordinary, Gwinnett November 10, 1865. She states that she will "pay first the debts and then the legacies"....
Evidently, the original Will must have been lost by the court as the next amendment is a statement by R. W. Whitlow... affirming the signatures on the Will and that he was a witness to the signing of the will. Dated September 30, 1865 Court of Ordinary, Gwinnett County , Georgia.
The last amendment to the Will is written on July 3, 1876, and signed by Elliot P. Minor. The court appointed him Executor of Emily Harris Wideman Lee's estate. There is no known record as to who was appointed guardian of her minor child, John Early Lee.
---
I know that assumptions are dangerous, but I am willing to assume that Zachry was very unhappy with the Civil War and what it was doing to his family, state and country. I doubt that he voted for succession. Since he was not an owner of twenty or more slaves, he didn't qualify for an exemption. And he probably didn't have the money to pay for a substitute. He was conscripted and paid a bonus of $50.00. He joined the second to last Volunteer Infantry Regiment organized in Georgia in February of 1863. The 64th Georgia Volunteer Infantry Regiment was under the Command of General Beauregard and assigned to the Department of South Carolina, Georgia and Florida.
Zachry Lee was a private in Company E., known as The Warren Akin Guards. The unit consisted primarily of men who were too young to serve earlier, veteran soldiers from disbanded commands and conscripts. E Company was predominately composed of men from Fulton, Bibb, Dougherty, Meriwether, Musoeogee, Terrell, Sumter and Walton Counties. The 64th Georgia Regiment initially mustered with 800 men and was divided into ten companies. After training, what little there was of it, the regiment was assigned to duty in Quincy, Florida where it stayed from July 1863 to January 1864. It returned to Georgia and was then sent back to Florida where it took part in its first major battle at Olustee, February 20, 1864. After this battle the regiment was transferred to the Army of Northern Virginia. It traveled via train from Savannah to Richmond, Virginia in early May of 1864. The regiment was placed under the command of General Ambrose P. Hill and ordered to relieve Hill's Pickett stationed on Swift Creek. Eventually the regiment was placed again under the command of General Beauregard and was assigned to the defense of Petersburg through the summer of 1864. By June its strength was down to 400 from its original 800. Many C.S.A. soldiers were becoming disillusioned with the war and desertion was rampant in the army.
A major engagement ensued on June 21, when the Federal troops assaulted Battery 16. There were thirty miles of trenches around Petersburg. Assisted by the 25th and 44th Tennessee, the 64th Georgia Regiment repulsed the attack and captured most of the Federal force. The 64th Georgia also was involved in the famous Battle of the Crater during the siege of Petersburg, Va. on June 30, 1864.
Zachry became sick during this period and was hospitalized first in Richmond in September 1864, and then Meriden, Mississippi in January 1865. He had chronic dysentery.
Reference: Georgia Archives - 64th Regimental History and Pension file for Zachry James Lee.
A significant incident regarding Zachry Lee is revealed in a letter now in the possession of the Thomas Maguire Family and written by Maguire to one of his sons. The letter is dated February 23, 1865.
"a portion of Lewis, Ky. Brigade (I believe this refers to Gen. Joseph Horace Lewis of Ky. who led the Orphan Brigade, a calvary brigade which fought with Johnston and Hood) came to Rockbridge. On the west bank at the Bridge is there (sic) headquarters, there (sic) business here is to pick stragglers and diserters (sic) from the army and from appearance they are doing their duty, they have sent several under ground to Covington. Sunday evening, Z. J. Lee and his wife were coming home from meeting. They hailed him, he had a pass or furlough from Graham, they told him it was no account. They let him go home with his wife by his promising to report next morning by 9 o'clock. That night Zack left for parts unknown." He goes on to comment that "... all of Graham's former troops are targets." (The source for this letter is Penny Nash of Atlanta, Georgia - a descendant and historian of the Maguire family.)
I have no idea where "parts unknown" were at that time. Possible Lone Oak, Meriwether County, Georgia or Alabama where he had many relatives. I do know from an oral family history, that Zachry was disillusioned with the war and what had happened to Georgia, his family and farm. And, since 1860 Emily had borne two more children - both died, one a month before Zachry died. And, she was pregnant with her eight child, John Early Lee who was born in 1866.
Many members of his family were involved in the war. At least eight nephews were killed or several badly wounded. At current count he had twelve nephews in the Army. This does not include friends, neighbors, including the son and son-in-law of Thomas Maguire. These deaths had to have left a major scare. How ironic, to survive the war, come home to rebuild and then to die within two months. He left a pregnant widow with no means of support and five children. Fortunately, several of these children were old enough to help their mother.
Zachry died Aug 24 1865, in Rockbridge District, Gwinnett County, Georgia. He is buried in the Rock Chapel Cemetery, Lithonia, DeKalb County, Georgia. According to recent information, Zachry died from burns while making wine, and his daughter Almanza was present.
Of his surviving children, the first to marry was Martha Annabelle Belle in 1867 at the age of 16. A letter exists from Emily to William Morgan Fling giving her approval/consent for the marriage, even thou she had reservations because of Annabelle's youth. Morgan was 20 and had served four years in the C.S.A. She gave in because he came highly recommended by Martha and Ivy Sewell and other relatives of Lone Oak, her family home. In response to Morgan's letter requesting Martha's hand in marriage Emily wrote:
"your good standing and responsibility ... I cannot find any good and sufficient cause to raise an objection to your proposed union, thou I must confess to serious misgivings in (illegible) to Belle's extreme youthfulness and inexperience in taking such an important and responsible step." Dated August 22, 1867.
They were married on December 10, 1867. William Morgan Fling and Annabelle lived with Emily prior to moving to Lone Oak, his home place. They are listed on the 1870 Census living with Emily on the Lee farm in Gwinnett County. Their first child, born and died in 1868, however is buried in the Allen-Lee Cemetery, Lone Oak, Georgia.
Source Material re: 64th Georgia Vol. Reg. - Georgia Archives, Atlanta, Georgia. "History of the 64th Regiment Georgia Volunteers" by Lake G. Ray, Jacksonville, Florida for MacCleland, Secretary of State of Georgia. June 1984.
Emily died April 10, 1876, at Lone Oak, Meriwether County, Georgia. She is buried in the Allen-Lee Cemetery, Lone Oak, Meriwether County, Georgia.
---
The children of Zachry James and Emily Harris Lee:
i - Rev. James Wideman Lee, Sr. born November 29, 1849.
ii - Martha Annabelle "Bell" Lee born July 9, 1851.
iii - Almanza Adeline Lee born January 30, 1852.
iv - Rebecca Ann Lee born December 15, 1855.
v - William Russell Lee born February 2, 1858, Rockbridge District, Gwinnett County, Georgia. He died August 13, 1882, Lithonia, Gwinnett County, Georgia.
vi - Mary Effie Lee born April 4, 1860, Rockbridge District, Gwinnett County, Georgia. Family history says Mary died February 14, 1864, Rockbridge District, Gwinnett County, Georgia.
vii - Joseph Zachry Lee born March 29, 1862, Rockbridge District, Gwinnett County, Georgia. Family history says he died July 21, 1865, Rockbridge District, Gwinnett County, Georgia.
viii - John Early Lee born March 26, 1866.
---
My great grandfather, The Rev. James Wideman Lee, Sr. graduated from Emory College in 1874 and went on to become a famous southern Methodist minister, and wrote many books. His son, my grandfather, Ivy Ledbetter Lee, is known as the founder of modern public relations. - William Cudlipp
---
Editor's Note - A thank you to Bill Cudlipp (BCudlipp@Tampabay.rr.com) for providing this contribution of his ancestors and their involvement in the Civil War. Details such as these add flesh to the bones of history.
---
Sixty-fourth Georgia Infantry Regiment
Battle of Olustee home page
http://battleofolustee.org/