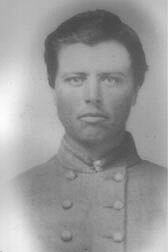 Dennis B. Dixon, private
Dennis B. Dixon enlisted when Company C was formed in 1862 and was at Ocean Pond (Olustee), Battery Wagner, various actions around Charleston, including John's Island, and at River's Bridge, South Carolina. His record shows he was separated from his command during the retreat from River's Bridge.
He returned to Burke County, Georgia and lived to his 90's. He is buried at Harmony United Methodist Church in Screven County, Georgia, where his great-great-grandson (my son) Trey maintains a Confederate battleflag on his grave.
Photograph and text printed with permission from Ralph. E. Dixon, Jr, the great-grandson of Dennis Dixon. Mr. Dixon can be reached at redjr@planters.net.
---
Thirty-second Georgia Infantry Regiment
Battle of Olustee home page.
http://battleofolustee.org/