At Olustee, the 35th U.S. Colored Troops was commanded by Lieutenant Colonel William Nikolaus Reed, as regimental commander Colonel Beecher was on leave in the north when the Florida campaign began. Reed was originally appointed as a lieutenant colonel and the regiment's second-in-command on 11 July 1863, by Brigadier General Edward A. Wild, a brigade commander in the Department of the South.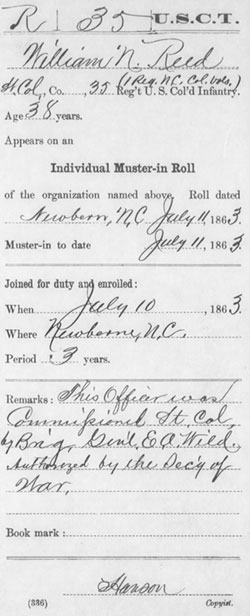 A page from one of the original 35th U.S.C.T. Record Books indicates that General Wild had wide latitude to appoint officers and establish their rank.

Text: "...it is well known that Brig Gen Wild has great Authority from the Department to appoint the Officers
of his Staff and Regt and establish their rank...." — Letter from Assistant Surgeon Daniel Mann, 35th U.S.C.T.,
to Major Horace Wirtz, Department Medical Director.
William Nikolaus Reed was born in 1825 in Christiansted, St. Croix Island (Virgin Islands), which was a Danish possession at the time. His father was a native of the province of Schleswig-Holstein, who moved to the Danish West Indies before William was born. At that time, Schleswig-Holstein was part of Denmark. In 1849, Denmark and Prussia fought the First Prussian-Danish War over the possession of Schleswig-Holstein, with Denmark emerging the victor. However, in 1864, the Second Prussian-Danish War ended with a Prussian victory, and Schleswig-Holstein became part of greater Germany.
Before that, in 1830, at the age of five years , William was sent from St. Croix to Flensburg in Denmark, where he was raised by a ship captain. He later entered the Militärakademie Rendsburg (near Kiel, in the north-east of Schleswig-Holstein) to study and become a military officer. During the First Prussian-Danish War, Reed joined the Danish Army of Schleswig-Holstein. By 1848, he was a second lieutenant and earned promotion to first lieutenant in 1850.
In 1851, at the end of the First Prussian-Danish War, Reed returned to the Caribbean, and in 1853 emigrated to the United States and settled in New York.
Now we come to the important part—Reed's mother was a black slave who lived on St. Croix. We do not know how much Negro blood his mother had, but that is not important. In 1863, mulattos were not appointed, except as chaplins or medical doctors, as officers in the U.S. Army.
After the Battle of Olustee, in February 1864, the officers of the 54th Massachusetts and the governor of Massachusetts spent almost a year trying to get Sergeant Major Stephan Swails' promotion to second lieutenant officially recognized by the U.S.Army. Swails was also a mulatto, and the reason the U.S. Army gave for denying his commission was "Lieutenant Swails' African descent." Swails was not officially recognized by the U.S. Army as a commissioned line officer until 17 January 1865. Research indicates Stephan Swails holds the distinction as the first African American to be approved, by U.S. Army Headquarters in Washington, as a line officer.
So, how did William Reed achieve the rank of lieutenant colonel and position as second-in-command of an infantry regiment in 1863? The answer may be quite simple. Reed was appointed as such by Brigadier General Edward Wild, an ardent abolitionist, who commanded a brigade in the Department of the South and who apparently ignored Reed's ancestry.
As such, Lieutenant Colonel Willian N. Reed holds the distinction of being the highest ranking African-American officer to serve in the U.S. Army during the Civil War, chaplins and doctors included. Unfortunately, Reed held that honor for less than eight months.
It is sad to state that any administrative 'problems' that might have occurred due to Reed's ancestry were solved by his death, soon after the Battle of Olustee, due to wounds he received in that battle.


Text: William Reed; Lt Col; June 1st 1863; Residence: New York City N York; Wounded at Battle
of Olustee Fla Feby 20th 1864, of which wounds he died at Beaufort S.C. February 27th 1864.
---
As further proof of Reed's ancestry:
James Permane provided this excerpt from the book Black Armed Forces Officers 1736-1971 by Jesse J. Johnson, Lieutenant Colonel, U.S. Army, (retired):
"35th USCT (formerly the First North Carolina Colored Infantry) Reed, Lieutenant Colonel William N.
Lieutenant Colonel William N. Reed was the highest ranking african american line officer in the U.S Army during the civil war. He was commissioned from civilian life on June 1, 1863, commanded the First North Carolina Colored Infantry Regiment, which became the 35th USCT, and died on February 26, 1864 from gunshot wounds received on February 20, 1864 in the Battle of Olustie, Florida.

Contributed by Marcus Justice"

Also see U.S. Commissioned Officers of African-American Descent Who Served During the Civil War, on the Military Order of the Loyal Legion of the United States Web site.

Robert Terry, who provided the images from the 35th U.S.C.T. Record Books, also provided the following:

Text: "...It also appears that the Lieut Col of the Regt (which is commanded by Col Beecher) is a mulatto and
while he has been temporarily in command of the Regt..." — Letter from Major Horace Wirtz, Department
Medical Director, to Major General Quincy Gilmore, Commander of Department of the South
---
Material for this page, text and images, resulted from research by Robert Terry, James Permane, Thomas Fasulo and James P. Murphy.
---
Wikipedia page (French) on LtCol William Reed
Wikipedia page on BGen Edward Wild
U.S. Commissioned Officers of African-American Descent Who Served During the Civil War
---
Union Order of Battle
Battle of Olustee home page
http://battleofolustee.org/