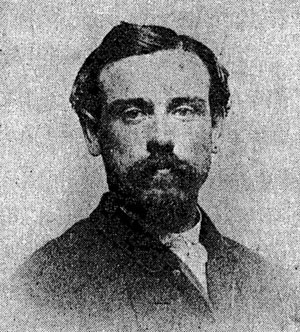 Captain Lewis Reed.
Lewis Reed was born on 26 October 1842 in East Abington, Massachusetts. He first joined Company G, 12th Massachusetts on 8 July, 1861, where he served as a corporal and then sergeant. He was assigned to the 54th on 9 July 1863 as a 2nd Lieutenant. He was promoted to 1st Lieutenant on 4 February 1864, but did not learn of his promotion until after the Battle of Olustee. As the Union Army retreated, Lt. Reed was instrumental in saving the life of Sergeant Major Stephen Swails who had been wounded in the head and had collapsed upon the road leading from the battlefield. As Lt. Reed and 30 men had been detailed to guard the telegraph line to Sanderson, he may not have been actively involved in the battle.
During the seige of Charleston, South Carolina, and during support of General Sherman's campaign in the Carolinas, Reed was in command of Company I and later Company G, and still later, Company K. On 18 April 1865, during the famous action at Boykin's Mills, South Carolina, where the 54th charged in single file across a thin footbridge over a dam, it was led by Lt. Reed. Lewis Reed was promoted to Captain on 19 June, 1865. He served as Provost Judge at Charleston, South Carolina, in the summer of 1865, and was discharged on 20 August 1865.
The above information obtained from A Brave Black Regiment: The History of the 5th Massachusetts, 1863-1865 by Captain Luis R. Emilio.
This sword was carried by Captain Lewis Reed. It is inscribed:
Presented to 1st Lt. Lewis Reed by his friends, E. Abington. Mass. Apr (?) 10 1863.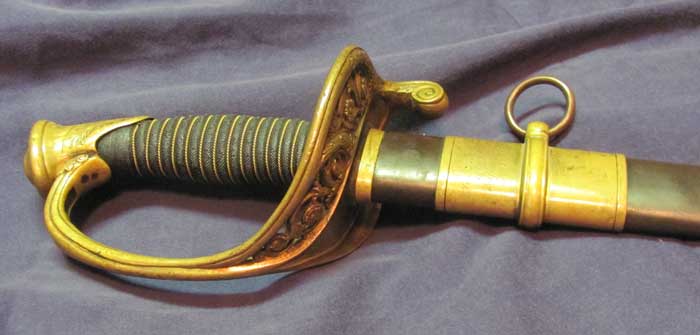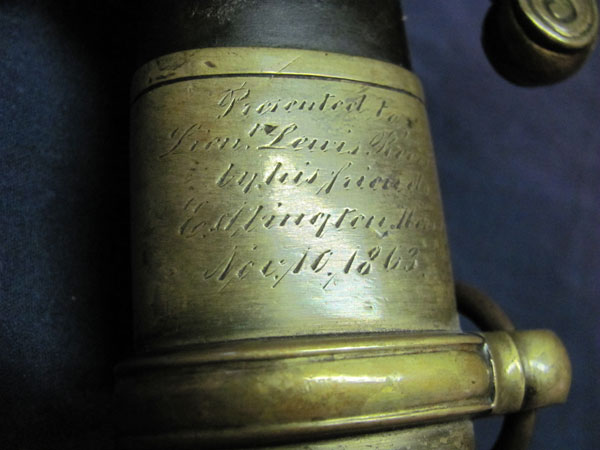 Return to the 54th Massachusetts Infantry page.
Battle of Olustee home page