Information and documents on Private Jordan Swindel were provided by his great-great grandson, Jordan M. Simmons III, Lieutenant Colonel, U.S. Army (retired). All records are from the National Archives.
---
On 16 June 1863, Private Swindel was initially mustered into the First North Carolina Colored Volunteers, in New Bern, North Carolina. Swindel was born a slave in North Carolina, in or around New Bern. He ran away from the plantation and joined the regiment at Hatteras, North Carolina.
Private Swindel fought in the Battle of Olustee and was wounded. The extent and kind of wound(s) he suffered are not known. After Olustee, Swindel suffered other illnesses and was hospitalized on a few occasions. This is documented by his unit's muster rolls.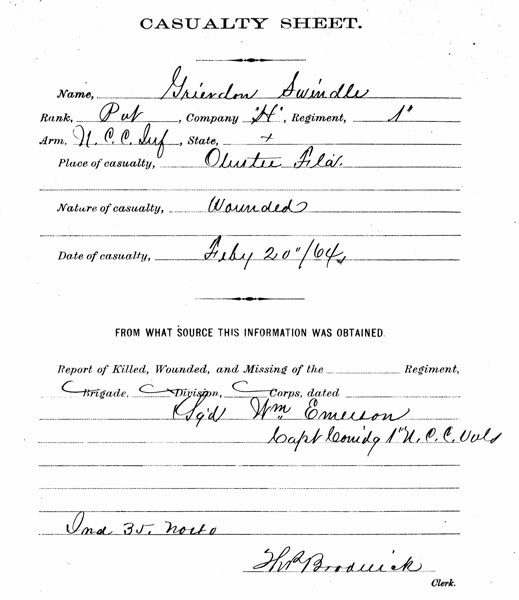 Private Swindel was discharged from U.S. service on 1 June 1866, at Charleston, South Carolina. Census records and oral historical information currently obtained have not provided information on what Jordan Swindel did later in life.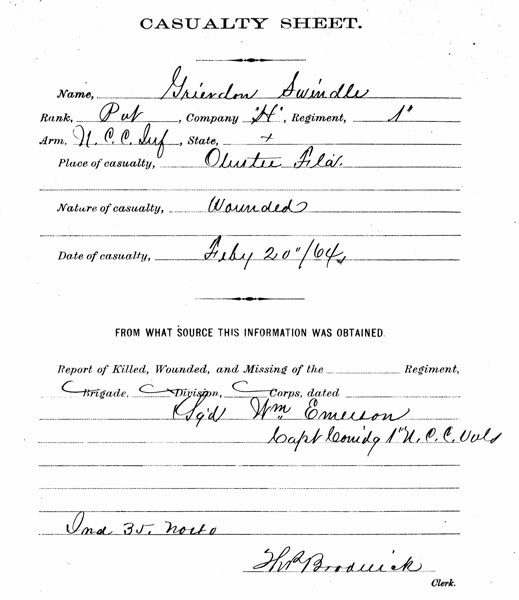 Private Swindel was paid $27.76 when he mustered out of the Army, on 1 June 1866.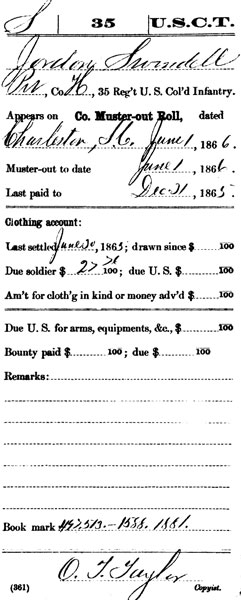 ---
Mr. Simmons (3rdjms@gmail.com) notes that military records he researched showed different spellings of Private Swindel's name, which was not uncommon during the war.
I located spellings of 'Swindel,' 'Swindell' and 'Swindle.' Also, his first name was misspelled as 'Grierdon,' pronounced at the time as 'Jerdon.' Different combinations included: "Jordan Swindel," "Jerdon Swindell," "Grierdon Swindle," "Jerdon Swindle" and "Jordan Swindle." All of these spellings are documented as being the same soldier serving in Company H, 35th Regiment, U.S.C.T. I also found spellings of "Jordon Swinton" and "Jordan Swinton" found on census and church records. Needless to say, it took me considerable research and cross-checking to confirm this information. There was only one Private Jordan Swindel—Company H, 35th Regiment—on the regiment's roster.
Mr. Simmons states he is continuing to gather information and documents for a publication about his great-great grandfather.
---
Battle of Olustee home page
http://battleofolustee.org/