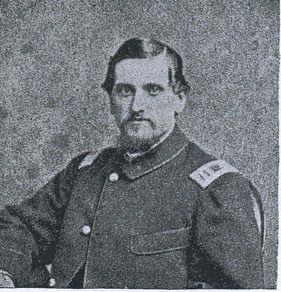 James Pratt was born on 6 November 1838. He was married and a carpenter in West Roxbury, Massachusetts, when he joined the army. He initially served in the 1st Massachusetts Volunteer Infantry, joining on 23 May 1861, where he was later promoted to corporal and then sergeant. Commissioned as a second lieutenant in the 54th on 5 March 1863, he was later promoted to 1st lieutenant on 15 August 1863, but was not mustered as such with the regiment as he was in hospital. He was wounded in two places during the assault on Battery Wagner during July. He escaped capture by concealing himself in a marsh. After many hours, he returned to Union lines while under fire by Rebel pickets. He was never to return to the 54th from medical leave.
He was discharged from the 54th Massachusetts in February 1864, as he had become a captain in the 56th Massachusetts on 25 January 1864. He resigned from the army on 16 May 1864 due to disability. Pratt died in East Boston in October 1891.
This information obtained from A Brave Black Regiment: The History of the 5th Massachusetts, 1863-1865 by Captain Luis R. Emilio.
Return to the 54th Massachusetts Infantry page.
Battle of Olustee home page