Alexander H. Johnson enlisted at the age of 16 as a drummer boy in the 54th Massachusetts Infantry. He was the first black musician to enlist during the Civil War, and is depicted as the drummer leading the column of troops on the memorial honoring Colonel Shaw and the 54th Massachusetts in front of the Massachusetts state house in Boston. Alex was adopted by William Henry Johnson, the second black lawyer in the United States and close associate of Frederick Douglass. Johnson's original surname was Howard and his mother was a Perry. His grandfather was Peter Perry, a native Hawaiian whaler who married an Indian woman.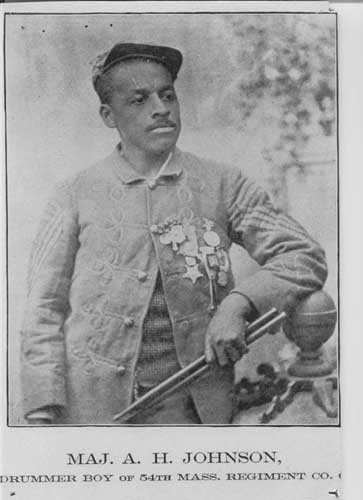 After the war, Alex Johnson was a member of both the Grand Army of the Republic General George H. Ward Post #10 and of the Sons of Union Veterans of the Civil War in Worcester, Massachusetts. He is frequently mentioned in the book We All Got History by Nick Salvatore.
Richard Massey's great-grand uncle Alexander Hemenway was a 1st sergeant in Company F, 54th Massachusetts. The adult image of Alex Johnson shown above was a Grand Army of the Republic photo taken around 1889. He is wearing 1st Sergeant Hemenway's coat. Alex Johnson used the "Major" designation, as seen on the image above, because he considered himself a Drum Major. He taught drums to many students and also established a drum and bugle corps.
Alexander Johnson died 19 March 1930, at the age of 82, just a few weeks after the 67th anniversary of his enlistment in the 54th.
The photographs and information were submitted by Alexander Johnson's great grandson, Richard Massey, Camp Secretary-Treasurer, Willie Grout Camp #25, Sons of Union Veterans of the Civil War, Worcester, Massachusetts.
The following was obtained by the Battle of Olustee Webmaster.
In the book A Brave Black Regiment: The History of the Fifty-Fourth Regiment of Massachusetts Volunteer Infantry 1863-1865 by Luis F. Emilio, who served as an officer in the 54th Massachusetts, the following information is provided on the enlistment papers for Alex H. Johnson and Alexander Hemenway:
Johnson, Alex, Co C, musician, 16, single, seaman, New Bedford, 2 Mar 63 - 20 Aug 65, $50
Hemmenway, Alexander, Co F, 28, married, barber, Worchester, 4 Apr 63 - 20 Aug 65, $50
The age indicates their age at enlistment, the town was their residence of record, the dates indicate their services and the $50 indicates their enlistment bonus.
Summary of Alexander Johnson's military service: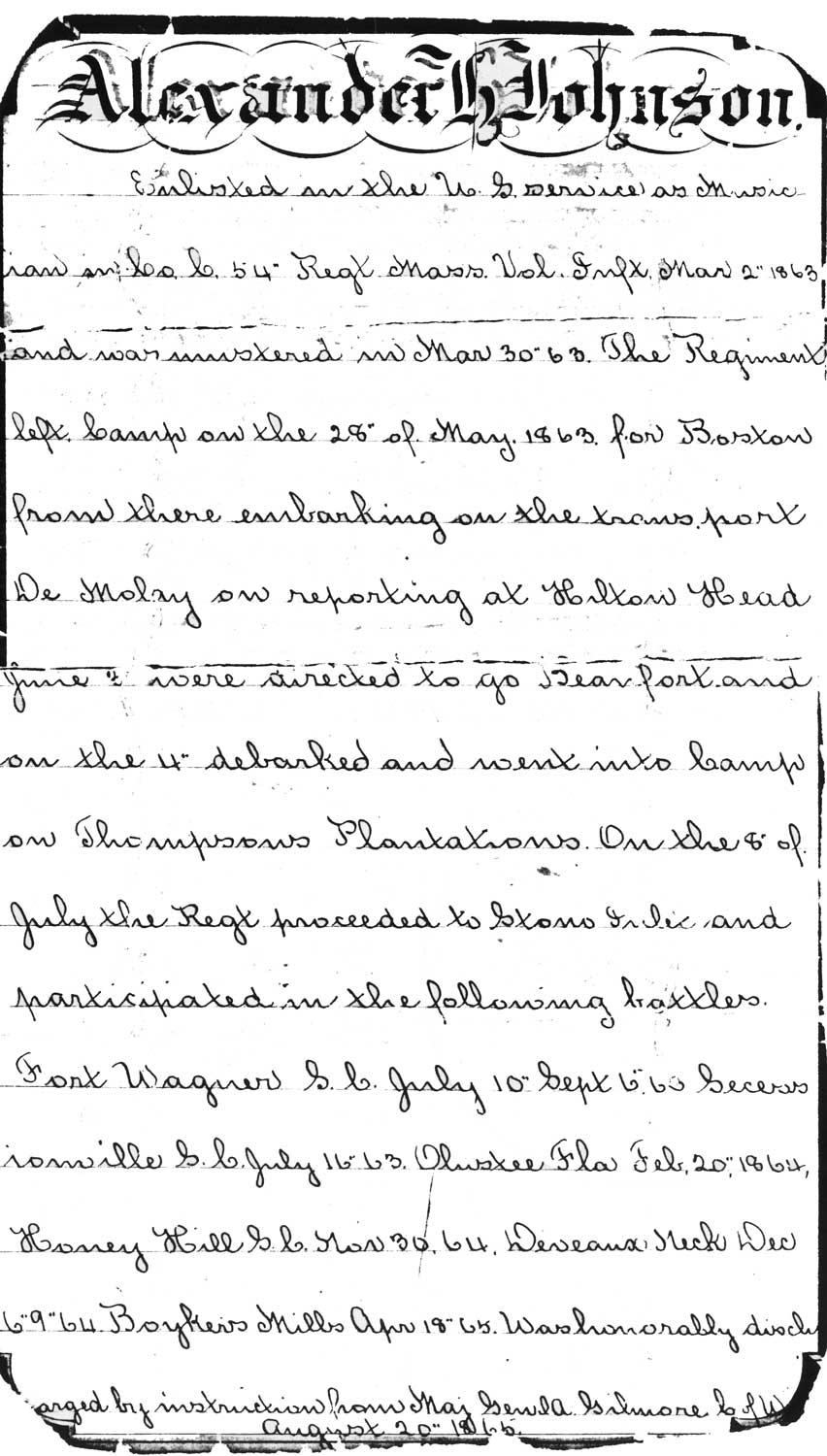 Summary of Alexander Johnson's military service.
Alexander Johnson's dischage certificate: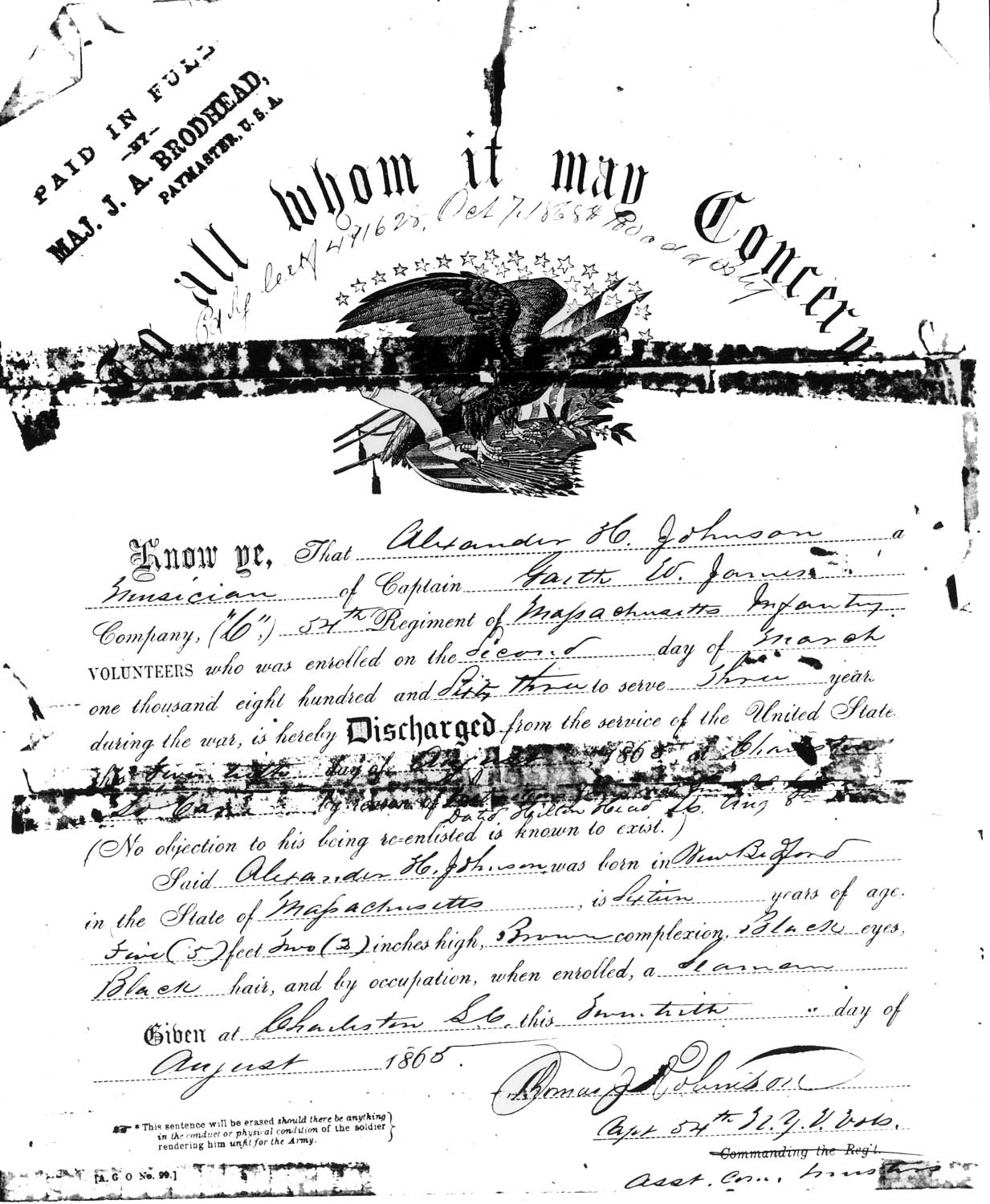 Alexander Johnson's dischage certificate.
Return to the 54th Massachusetts Infantry page.
Battle of Olustee home page