Gamble's (Leon Light) Artillery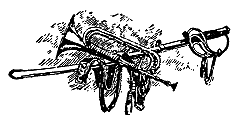 Drawing from the Olustee Post Card Set.

Finegan's artillery reserve consisted of the small, seventy-seven man battery of the Leon Light Artillery. The Leon Light Artillery, commanded by Captain Robert H. Gamble, was also known as Gamble's Battery and as the Florida Light Artillery. It numbered severty-seven enlisted men in addition to several officers at Olustee. The officers included: C.E Dyke as second lieutenant and E.W. Gamble as third lieutenant.

At the Battle of Olustee, the whole battery, supported by the 64th Georgia, was sent to the front in advance of Finegan's command to bring on the fight as the armies approached each other. Lieutenant E.W. Gamble's, equally with Lieutenant Dyke's section, had hot work during the time the advanced force bore the brunt of the opening battle while the main force came up. Lieutenant Dyke's horse was shot, but bore Dyke through the fight and did not die until several days after.

The battery consisting originally of six guns had been divided many months previous to the Battle of Olustee. 1st Lieutenant Villepigue was promoted and placed in command of the new battery, and Sergeants P. Houston (Captain Houston) and James May were elected first and second lieutenants respectively. By this division Lieutenant Dyke became 1st lieutenant and Lieutenant E.W. Gamble 2nd lieutenant of Captain R.H. Gamble's battery.

During the battle the battery lost two men killed and five wounded. In addition, two horses were killed and seven wounded. "These accidents among the horses," Gamble wrote in his post-battle report, "threw several teams into confusion, during which two limbers were badly (damaged)." The stampeding horses and gun caissons injured two additional men from the battery.
Owing to continued ill health, Captain Gamble was forced to resign immediately after the battle. In fact, arrangements for his doing so were all but completed prior to the battle. However, Captain Gamble would not leave his post, with a battle in sight, as he was not yet formally relieved. A month after the battle, the battery now known as Dyke's Battery, was ordered to Andersonville where it was stipped of its horses for the use of General Johnson's army.

Earthworks were erected about Andersonville prison which were armed and manned by Dyke's Battery which remained under Dyke's command until the end of the war. The battery was included in the surrender on 10 May 1865.

Captain Gamble's Official Report of the Battle
---
Gamble's Artillery Reenacting Units
(Please inform Webmaster of new additions, changes in URLs or dead links.)

Gamble's Artillery (Dykes Battery) - south central Florida
---
Confederate Order of Battle
Battle of Olustee home page
http://battleofolustee.org/