Chatham Artillery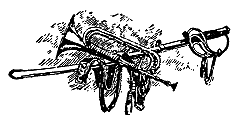 Before the war, the Chatham Artillery had been an elite militia organization from Savannah, Georgia. In early 1862, the battery entered Confederate service, campaigning primarily along the Georgia and South Carolina coasts. The four guns of the Chatham Artillery, commanded at Olustee by Captain John F. Wheaton, provided the Confederates with its most experienced artillery in the upcoming battle.
The battery entered the Battle of Olustee at 2:20 p.m. and, "was constantly engaged from the commencement to the close of the action and expended nearly all its ammunition, except its canister." Although heavily engaged at Olustee, the battery, which brought eighty men into the battle, lost just "three men slightly wounded, neither of whom left the field until the action closed." In addition, one battery horse was killed in the engagement and three wounded. No newspaper casualty list for this unit has been found, and an examination of the units Confederate Service Records did not identify the individuals who were wounded.
After Olustee, the Chatham Artillery served in Georgia and the Carolinas for the rest of the war, with part of the battery captured at Fort McAlister near Savannah in December 1864.
Captain Wheaton's Official Report of the Battle

---
Authentic recipe for Chatham Artillery Punch
---
Chatham Artillery Reenacting Units
(Please inform Webmaster of new additions, changes in URLs or dead links.)

?
---
Confederate Order of Battle
Battle of Olustee home page
http://battleofolustee.org/